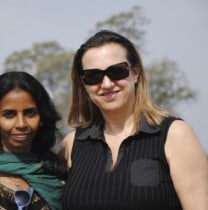 Fees: ₹1000 per hour

Hello Everyone i am a tour guide in Chennai, Which is located in South India. Capital city of Tamilnadu. if you prefer to visit India specially South India, you can contact me at any time. I am an Approved Tourist Guide from the Tourism Department, Me fluuent in English,

Me socialized in Southindia. Specially Tamil Nadu, Kerala, Karnataka, . We have our tariff. I will write to you in detail depending on your requirement.

My price is only for guiding (taking to the interested places giving information about it.) If requirement ahead of transport I can assist for the same.

Alll my tour provide with a bottle of water(one time) whenever a tour booked above 5 hours I will provide a vegetarian lunch.

This is to bring to your notice that , I will be very busy from September till the end of January I request who ever's wish me to be your guide please kindly book me in advance.

. The peak time for tourism is November to January.I would prefer whomever booking me please confirm better in advance preferably a month before during peak season and a week before otherwise.


Location: Chennai, Tamilnadu, India
Languages: English,Tamil
Activities: Hiking, City tour, Cultural place visits
Transport Mode: Walk, Cars, Bikes, Motor Cycles
No. of people I can host: up to 10
Mobile: 9093374383